Festival
STAGES
This year, we're excited to host a variety of programming formats on our festival stages. The festival stages are open air stages on the showfloor where you can come and go as you please amidst the exciting backdrop of our must-see activations, sponsor booths, and networking spots. Our advice? Soak up some knowledge by exploring the showfloor, and switch things up by sitting in on a session or two.
Here, you'll find two of our most exciting session types: Spotlight and What's Next. Spotlight sessions are where you'll find inspirational talks from the icons, legends, and thought leaders of our time. And if you're looking for insight into what's coming in the world of tech, business, and culture, then make sure to stop by a What's Next session to hear from speakers who will cut through the noise and speak incisively on the emerging macro trends shaping the world around us.
Main Stage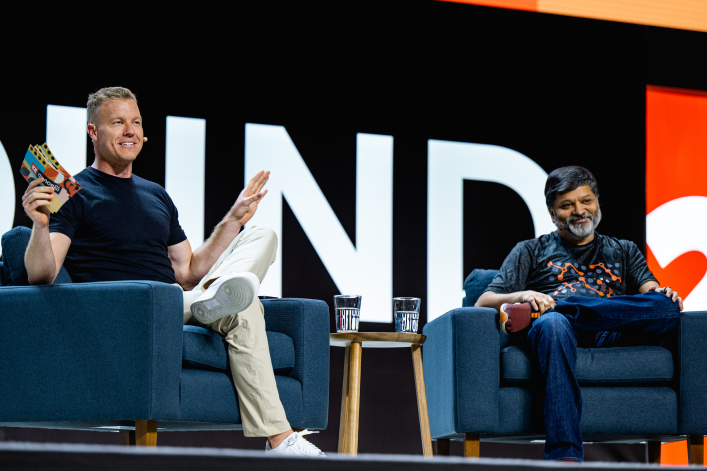 If you're more invested in practical, immediately actionable content, then stop by the new Development Stage to learn from INBOUND's most popular breakout speakers and leading members of the HubSpot community as they debut original content that's relevant to your life and business right now. This is essential content for anyone looking to develop new skills to help them grow in their role.
Development Stage
A complement to the nearby Development Stage, visit the (also new!) Discovery Stage to gain strategic insights and new perspectives on the trending topics and challenges facing leaders. Learn from industry thought leaders as they share their experience to help you tackle some of the toughest strategic questions facing your business today.
Discovery Stage
And if you're interested in learning more about all things HubSpot, head to the HubSpot Heroes Stage. This is where you can get a behind the scenes look into the product from our developers, meet Academy Professors, learn from HubSpot customers as they share their success stories, and connect with other superfans about their experiences, best practices, tips, and tricks.
HubSpot Heroes Stage
We're also taking full advantage of the side lawn this year, and debuting the Lawn on D Stage with an exciting mix of scheduled and spontaneous programming. Both a stage and a gathering place where you can exchange ideas and make connections, stop by to experience everything from a guided group meditation to watching your fellow attendees take the stage! Don't miss your chance to experience INBOUND's newest innovation.
Lawn on D Stage
Activities
Lawn on d
The Lawn on D boasts plenty of sunshine and seating during all of INBOUND. Challenge others to your favorite lawn game, pick up lunch from one of our beloved food trucks, and enjoy the fresh air.
Step outside and stretch your legs!
New this year: a suite of wellness activities at the Lawn on D Stage. Center yourself through a guided meditation, stretch session, and other attendee-led programming. Grab a drink and lounge in the sunshine before heading back in to explore, learn, connect, and more.
Food Trucks
Hungry? Head to the Lawn on D where a plethora of our beloved food trucks await you. From tacos to Mediterranean, southwestern to burgers, we have it all!
Don't forget: VIP passholders get free lunch!
Grab some grub, take a seat, and enjoy the sunshine on the lawn.
INBOUND At Night
When Thursday's programming winds down, the party's just getting started. Join us for INBOUND at Night, an evening of entertainment, food and drinks, and more!

VIP Perks
Our Very Important People get some Very Impressive Perks. VIP passholders receive an exclusive invite to our opening VIP Party on Tuesday night to kick off INBOUND 2023 with live music, food, drinks, and more.
Get Ready for Very Impressive Perks.
Throughout INBOUND, retreat to the VIP Lounge to get some work done or connect with other VIPs. Enjoy complimentary happy hours in the lounge and free lunch from any vendor or food truck. And no need to rush to Spotlight sessions—VIPs get reserved seating at the Main Stage.
Surprise & Delight Moments
Keep an eye out for surprise moments. At INBOUND, you can expect a variety of unique giveaways throughout the event.
Keep an eye out for surprise moments.
Rumor has it we've got food and beverage pop-ups and unexpected delights around every corner.
Personal Accommodations
Need to step away from the buzz of INBOUND? Take a few moments to rejuvenate in the Quiet Spot. Phones off, laptops away—just a calm space to unwind.
Step Away and Relax
If you're a nursing individual, you'll find our Lactation Room nearby. We also have a multi-faith prayer room available for folks that want to pray, worship, or meditate during INBOUND.
Network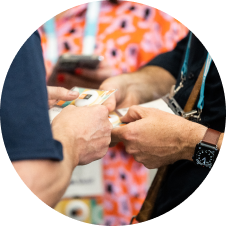 Powered by frictionless Klik badges, attendees can connect with the ease of a tap. Through these badge-to-badge connections, partnerships form, collaboration levels up, and communities take off.
INBOUND Meetups are thematically curated sessions where attendees can connect with each other. For the passionate, the curious, and the fans of nerding out, Meetups are the perfect space to build community centered on a specific purpose.
Harnessing the energy of diverse voices and ideas, INBOUND is proud to host fifteen community groups that celebrate the rich stories and experiences around us. From groups that started within HubSpot, to exciting communities making change across the country, these spaces showcase the breadth of our global audience.
Our remarkable suite of sponsors amplify the INBOUND mission and heighten the attendee experience. The hub is replete with immersive, thoughtful opportunities for brands and partners to authentically connect with the INBOUND community.
Livestream
Watch INBOUND 2023 live via YouTube in September! We understand that not all attendees can make the trip to Boston, which is why we're excited to bring attendees a front row seat to Main Stage Spotlight and What's Next speakers and programming live through HubSpot's YouTube channel.
Our 3-day livestream will feature over 20+ sessions, English closed captioning and ASL interpretation.
INBOUND is committed to providing a quality experience for everyone. To learn more about our offerings please download our Accessibility Guide. Throughout this guide, you will see several areas that are available by request only. Please use the Accommodation Request Form. Some types of accommodations can take several weeks to arrange, thus the deadline for submission is no later than August 1, 2023. After this date, we will work with you to find the best solution that's possible within the time that we have.