This guest post is by Hannah Eisenberg, CEO and Chief Inbound Marketer at 3P Creative Group. Apply to guest blog here.
During his INBOUND 2014 keynote, Dharmesh Shah told the 10,000+ attendees the story of how he and Brian Halligan met at an MIT cocktail party for new incoming students.
Because Dharmesh is an introvert, being in a room full of people that he is expected to make small talk with is one of his worst nightmares. Luckily, his wife Kirsten was with him that night. She scouted the room for him, hoping to find people that he would mesh well with.
She came back 15 minutes later, talking about all these people he should meet: Priya, Michael, oh and a guy called Brian Halligan. When she told him that he and Brian might not be a good match because he is a sales guy, he is an extrovert (with a capital "E") and he is into sports, Dharmesh got "mildly offended." They did talk that night - which is a good thing, considering the two founded HubSpot together.
I can empathize with that story completely - I am an odd mixture of a Type A personality and a shy introvert. I guess that is why I left my corporate job and started 3P Creative Group.
But no matter if you are an introvert or an extrovert, INBOUND 2015 will be an amazing networking opportunity. With more than 13,000 of the brightest and most talented inbound marketers and salespeople from all over the globe coming together for one gigantic, 4-day event. Every single moment is an opportunity to meet someone that could turn out to be a valuable connection.
Networking Advice From an Expert
In order to help you make the best out of the INBOUND 2015 event networking-wise, I asked Scott Eisenberg, Founder and CEO of Swap The Biz, to share some of his secret sauce with you. Scott's success is due to his inboundy approach to networking. He puts the social aspect first, because if you already have a trusting relationship, you are more willing to refer business to each other.
However, events can pose a huge networking challenge: There are sessions to attend, you sometimes have to walk miles to get from one bold talk to the next (or at least it can feel like it) and it can be very intimidating with so many people in one room.
So, can you make the connection that might spark a successful business partnership later?
1. Don't Pitch. Like, Ever.
According to traditional networking gurus, you have to make your pitch special in order to stand out. But what they mean is, you should make it sound different. But it is still the same pitch; you just painted in a nicer shade of pink.
But pitching doesn't work. Think about it from the other person's perspective by imagining yourself meeting me.
Let's say I happen to meet you at lunchtime on the second day of INBOUND 2015. So far, you have already met with 24 people before me. And every single one of them you spoke to has had the same approach: "What do you do? I work for company XYZ and I do so-and-so."
If I do the same thing, you will take my business card, turn around and forget that I exist. The chance of us really connecting and finding a way we can benefit from each other are slim.
Click To Tweet: Networking @ #INBOUND15: Don't pitch! Talk about something you are passionate about.
2. Talk About Something You Are Truly Passionate About
In the same scenario, if I talk to you about my trip last night through Boston and my passion for architecture and photography, chances are we'll strike off a great conversation, because maybe your wife is actually a full-time photographer.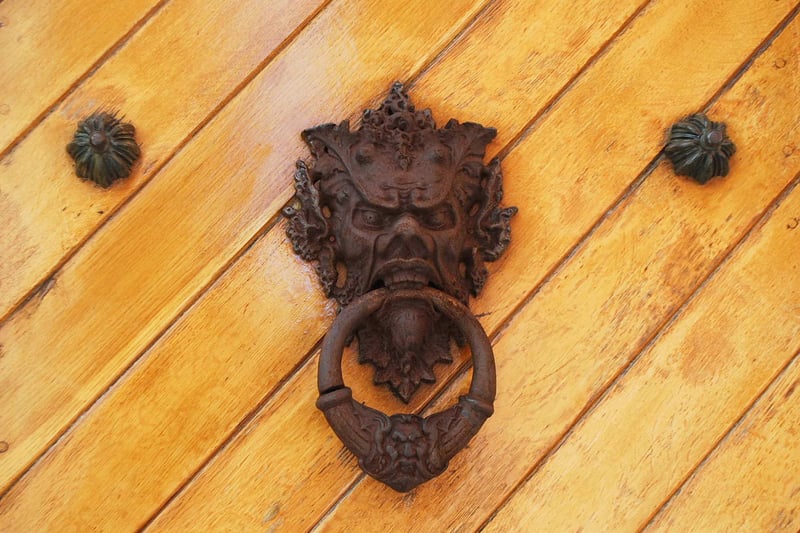 Humans are social creatures and we love to hear interesting tidbits about other people's lives.
By telling them something about your upcoming vacation to Italy, your volunteer mission to Costa Rica or your recent attempt to run a marathon, you get them excited about you as a person and the passion you have.
They will be more willing to share something fun about themselves as well. This is not only a great way to connect, but also a sure-fire way to make you stand out.
Click To Tweet: Your #INBOUND15 #networking mantra should be: Remember and be remembered!
3. Networking Is Not A Numbers Game
There is no way to meet every single person at the event. But it really isn't about the quantity of business cards you collect, but rather the quality of the connections you make. The worst thing you could do is gather business cards and race to the next person.
Realistically, you can expect to meet about 10 people a day and have short, but meaningful conversations with them. With just a few minutes to grab some water, use the bathroom and run to the next session (we all want to attend as many sessions as we can, right?) time is at a premium. Make sure you maximize every interaction.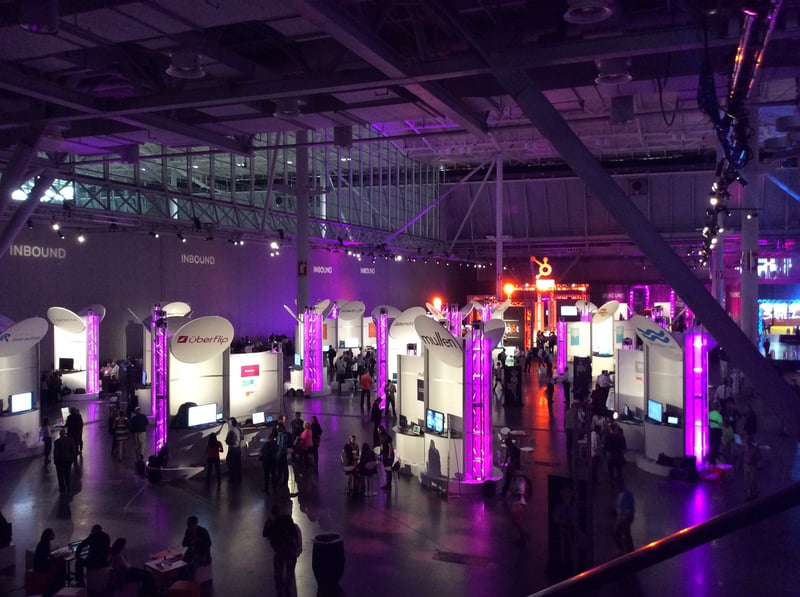 4. Use Trigger Points
With an event this big, chances are you will meet a lot of people and it is hard to remember every single conversation. After you finished a conversation and you exchanged business cards, take a moment to jot down some private notes on the business card. These are trigger points. It can be anything like "Has a daughter who was last year in Costa Rica too" or "Blue cocktail dress she bought last week in NYC."
Trigger points serve a dual purpose: On the one hand, they allow you to remember the conversation and spark their memory when you follow up, and on the other hand, it shows that you cared enough about that conversation to remember it - which puts you in a completely different league than generic follow-ups.

3 Common Networking Excuses Debunked
1. "I am too shy to just go up to people and strike up a conversation!"
I am a big introvert and for me just going up to people and talking to them is a terrifying scenario! Scott's advice to me and everyone else bashful out there: Change your attitude. When you go to INBOUND, it is your job to meet people. Once you understand that networking is expected, it takes away the fear of "intruding on people." Just look at the agenda, networking is very much a formal part of the event. Remebering that it's your job should make it a little bit easier for you to do it and take it seriously.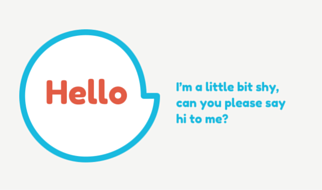 If it feels weird to you to introduce yourself to people before sessions, here is another tip from Scott: Drop a little card on the chairs around you saying: "I'm a little bit shy, can you please say hi to me?"
(You can download this cute card in business card format here.)
It helps you overcome the awkwardness and is a good conversation starter.
The best thing that can happen to you is that people laugh. And according to Victor Borge, "Laughter is the shortest distance between two people."
2. "I have no idea how to strike up a conversation!"
Conversation starters are a big question for beginning networkers. Here are some suggestions:
When you are at the coffee table, just look at the person, smile and simply say "Hi!" - now the ball is in their court. If they just say hi back and pause, you can compliment them on their shoes and ask them where they got them from, or you can ask them something about the last session or the speaker. Another option is to glance at name tags and say "Oh, that company sounds familiar."
Since everyone is in pretty close quarters, you can comment on their clothing or phone. Almost everyone will be on their phone to pass time and avoid awkward situations. They are in the same boat as you - so chances are, they will be very happy about someone approaching them and starting up a conversation.
3. "I don't have enough time to meet people."
I get it, we all are busy. But that is a poor excuse to not network. For example, before sessions when you are waiting for it to start, and whenever you find yourself in a line, introduce yourself to the people around you.
Even if there is very little time, pursue opportunities when they exist - if someone is engaging to you there, go with that conversation. If you have to run because your next session is about to start, don't end the conversation abruptly without finding a way to follow up.
Just say something like "Ugh, I'm so sorry, I'm about to miss this session, let me get your card, I'll call you at 4:00 or meet you at the INBOUND Rocks show." As you walk to your session, put an alarm notification on your phone to make sure you follow up and call this person.
I Am Looking Forward To Meeting You At INBOUND!
I really enjoyed writing this blog post and I hope you can take some valuable tips away from it.
But I also hope to meet some of you at INBOUND 2015. So, please reach out, especially if you love goats, have ever lived in cool places like New Zealand, or just want to talk about HubSpot - yes, I am totally crazy about HubSpot. :)
Hannah Eisenberg is the CEO and Chief Inbound Marketer at 3P Creative Group, a full-service inbound marketing agency in Highland Park, NJ. 3P Creative Group empowers mission-driven businesses. The agency is a Certified HubSpot Partner Agency since the beginning of 2014 and is HubSpot customer success story! Follow them on Twitter at @3PCreativeGroup.
Hannah has a healthy obsession with coffee and LaMancha goats. She enjoys photography, traveling and growing her own food.
Get your networking on: you can't meet any of the 13,000+ sales and marketing professionals convening in Boston September 8-11, 2015 if you don't register. Do it today before ticket prices increase on July 31st.